2/4 race <4.5 hours @ Uwharrie 20 miler in Altra Lone Peaks (3rd race for the shoes)
temp mild (high 40's) light rain on and off (beautiful weather for Uwharrie
HR avg 157 max 176
Uwharrie,
the wife
and I have a long history together. Even though this was only my second time doing the race, this was our third visit. It's really all my wife's fault. She ran the 8 miler in 2010 and I got to handle race pick up and drop off duties. I recall there was snow in '10 around that time and many people who registered didn't run as the race was nearly cancelled. After her introduction, she spoon fed me lies all year about how much "fun" it is and how I would really like it. So in 2011 she tricked me into doing this thing called C25K, which is the primary indoctrination tool used by running evangelists. I guess it worked since I found myself signed up for the Uwharrie 8 miler in 2011, with the wife doing the 20. That year, it was pouring rain when I dropped the wife off for the start of the 20 miler. Thankfully the rain was down to a drizzle by the time I caught the bus for my 8 mile start. Oh yeah, and it was COLD both years. So this year turned out to be a bit of a surprise with the wife using her silly, "I'm 23 weeks pregnant, " excuse and me some how signed up to run 20 miles...
Beautiful weather at the start meant I ditched my over shirt with the +1 and just ran in a
Bull City tank top
and Zensah arm sleeves. I made the VERY SMART decision to skip the
CEP calf sleeves
, which I've only tried on two short runs so far. Now I can say, without a doubt, the calf sleeves give me minor compartment syndrome (too small?). I did decide to wear my
2XU elite compression shorts
(aka leg sausage casings) and other than making me feel like I have to pee all the time, I think they do a great job of keeping the thunder in my thunder thighs and the donk in my badonkadonk (maybe even the sham in the shama lama ding dong). Ok, I'm lying about the last part, when it comes to the ding dong it's a smash not a shama.
After the +1 was kind enough to drop me off, I checked in and ran into a couple of my blog friends
Scott
and
Ryan
. Scott was wearing his bedroom slippers again and Ryan had ditched his
Jog Strap
in favor of a kilt (or perhaps the Jog Strap was under the kilt...). They are both super fast, but thanks to the bottleneck start we got to hang out for about the first mile before they took off. The fact that not only are they super fast but they are both taking pictures the whole time is even more impressive! It's all I can do to not fall on my face or run into a tree.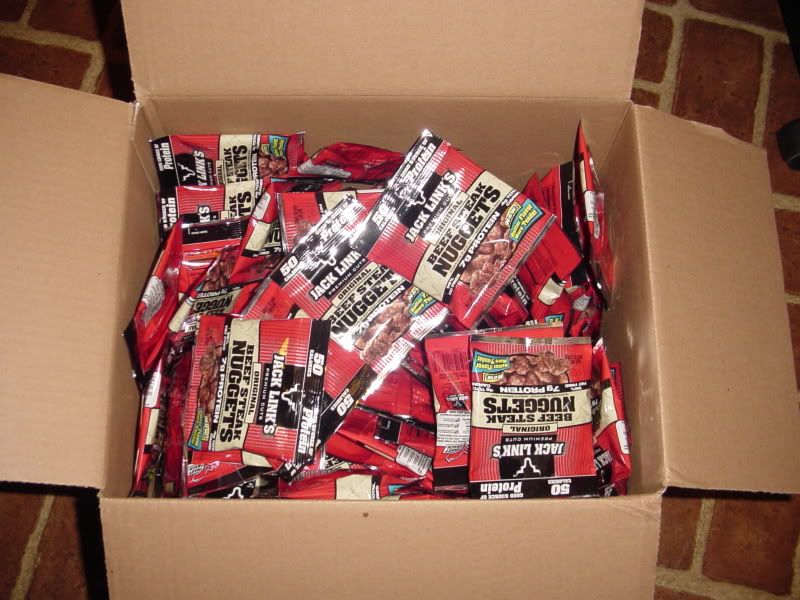 What race fuel would look like if you were Bigfoot
Miles 1-8
So there we are, all lined up on the road, Kim yells something unintelligible into a megaphone and suddenly we are off. We make the right turn into the woods and start heading up hill through what feels like a rocky ditch. I'm really glad to be hanging with a couple of experienced runners in Ryan and Scott, otherwise I would have been stressing about the bottleneck instead of using the time to relax and catch up with friends. They take advantage of the delay to whip out their cameras and start snapping pictures of the mayhem. Once things start to clear out on the flatter section, they make their break and I do my best to hang with them for a bit. It doesn't take long for me to realize that I need to throttle back if I want to make it to the 20 mile mark without the help of a 4-wheeler. So slowly but surely, the tick mob disappears into the distance. I think I did see Ryan again briefly at the 5 mile aid station. I didn't take advantage of the facilities at the start and I figured I would just hit the porta-john at the 5 mile aid station. The only problem was they didn't have a porta-john there! So off I went. I was starting to rethink the compression shorts at that point, as they weren't doing my bladder any favors and they make it impossible to pee in the woods discreetly. I spent the next 3 miles looking for a good place to run off the trail and pee, but with all the trees barren, my choices for cover were nil.
The 8 mile aid station comes into view and the porta-john is the first thing I see! I'm also pretty sure I beat my 8 mile time from last year. It's showing green, but I knock just in case. Not having to wait to use the bathroom saved me some time, but I still had to top off my bottle with water. So I do that and get moving, smartly saving time by retying my shorts on the run. By smart, I mean dumb. Today I feel like somebody poked me in the belly with a broomstick handle right where the knot comes together.
Miles 8-11
This was the section where I started to feel pretty good about my chances for a decent finishing time (code speak for beat the wife's time from last year). I had beat my 8 mile time (I think) and I was still feeling good physically. I figured how bad can another 12 miles be? My knee was a little stiff from the beginning of the race, but not too bad. Just kind of surprising as it hadn't bothered me in any of my training this month. What did surprise me was my left foot started to hurt again. Once I started wearing the Lone Peaks on the rocky trails of Eno, the pain went away and I hadn't felt it in over a month. This is around the time I started to repeat my silly race mantra. It's something along the lines of, "every step makes you stronger." I also do this thing where I sort of visualize each step as part of moving toward a rebuilding process instead of a break down. Sort of like śavāsana at the end of a taxing yoga practice. I don't know if it helps, but it gives me something to do.
I think this was the section where you come to bottom of a downhill and there is a creek in front of you and a bit of path on the other side. The problem is the trail actually turns left and runs along the edge of the creek. I made the mistake of running through it and spend a few minutes trying to find the trail on the other side of the creek, along with the guy who was behind me. Thankfully an 8 time Uwharrie runner comes along and points us in the right direction. I guess it happens quite a bit, as he told me they used to mark the turn in some years prior. I believe he told me he was running
Pilot Mountain Payback
and
Umstead Marathon
! Now that is a full race calendar! On the off chance you read this, goodluck to you sir and thanks for pointing me in the right direction, otherwise I might still be on the wrong side of that creek right now.
Miles 11-14
I remember leaving the 11 mile station thinking about how well things were going. This was the period when I did my half way mark nutrition. I took 4 more
Sportlegs
and downed my
Vespa Ultra Concentrate
. This is only the second time I've used Sportlegs. I had a free sample that I tried for the Gauntlet in Boone and that course had the steepest hills I've ever seen. I'm not sure if it helps, but it doesn't seem to hurt, so I'll probably keep using them for hilly courses. The Vespa Ultra Concentrate is a real life saver. I'm a big time believer in Vespa, and the Ultra Concentrate packets are even smaller than your average gel. This made it possible for me to carry two packs of clif shotbloks, Sportlegs, and a Vespa Ultra concentrate between the pouch on my bottle and the tiny zip pocket in my shorts.
The intake of the capsules and the Vespa meant I was drinking a bit more water on this leg. So I don't know if that was the cause or what but it seemed like forever before the 14 mile aid station popped into view. My bottle was nearly dry and I felt like my pace was falling off. I don't remember much else about this leg, as I believe I was alone for most of it. I decided to take hit of the Mountain Dew at this aid station, as the wife said it really helped her last year.
Mile 14-17
I caught up with a group of guys at the 14 mile aid station that went out together fast and furious. This got some life back in me as I tried to hang with them. I was afraid my heart rate would creep up, but everything stayed under control as they did a good job of running for even effort instead of pace. One guy in particular, who was wearing tights, brooks and had a nice southern drawl had great knowledge of the course. I followed him and he did a great job of navigating around some of the water crossings and avoiding the mud pits. He was also ready for the big hill that comes around mile 16. Some of the other guys tried to jog up part of it, not realizing how long it is or that it gets steeper toward the top. He said, "I'll see you at the top," and that he did, as he did a great job of maintaining even effort, which kept me in check trying to go up this thing, otherwise I might have burned myself out not realizing how far we had to climb. We also started to encounter the 40 milers on their way back. This made for some tight passing, but it also kept things more interesting. I remember seeing
AC
and yelling out, "Anthony," as I was just happy to see a face I recognized from the blog world. My vocabulary at this point was limited to people's names and the phrase, "great job," for each 40 miler who went past. Not too long after, I saw Shannon with camera in hand. Thanks to my limited vocabulary all I could come up with was, "Shannon," as she went flying by. This section also seemed to take a long time to get through. I was starting to wonder if time slows down for me after the 11 mile point of a race. This was only my second race over 12 miles, although I've done quite a few training runs up to 17.5 miles. Although never longer than 3 hours, so perhaps it was the time on my feet factor as well. I remember I knew we were close when I saw a 40 miler come by with a cup of soup in his hand.
Miles 17-20
Shoot it before it gets any closer!
I took another hit of the Mountain Dew, in addition to refilling my bottle. I caught up with a couple people running the 40 miler (man and woman, sorry my memory seems to get worse toward the end of a race) as they left the aid station. They did a great job of pacing on the next stretch and I felt like I learned a lot about how to run Uwharrie just by following them. As we approached the 20 mile finish, I started to wonder why they weren't kicking in the afterburners, then I remembered they were running the 40 miler. DUH! So I looked at my watch and I saw I had a chance to break 4.5 hours and took off as fast as my bruised, blistered and pruned feet would carry me! I sprinted through the line and just under 4.5 hours based on my watch time (no official times yet). I remember someone shoving a piece of pottery in my hand as I ran by. The +1 was there waiting for me as I went through my usual post-race brain fog.
Hanging out with the fastest guy to ever run Uwharrie in bedroom slippers (Scott)
Epilogue
simulated post race puke
I got to hang out with
Scott
again after the race. It turns out he and
my wife
had met by chance at the finish, as she was confused by his
bedroom slippers
, as well. I don't remember a whole lot as I have pretty bad brain fog immediately after a race. It took me forever to get changed and cleaned up before we headed out. My feet looked like the worst bathtub prune feet I've ever seen. Other than the pre-existing blisters I didn't have anything too crazy going on. I got some serious arm pit chafe from the arm sleeves. I was trying to figure out how that happened, when it dawned on me. In every other race, I pull them down at some point, but I left them up the whole time, so that explains it.
I had a great time doing this race. I really enjoyed the start, since I got to hang out with some cool people and I feel like I learned a lot throughout the course. Based on the natural progression, I guess this means I'm supposed to run the 40 next year...